Money Basics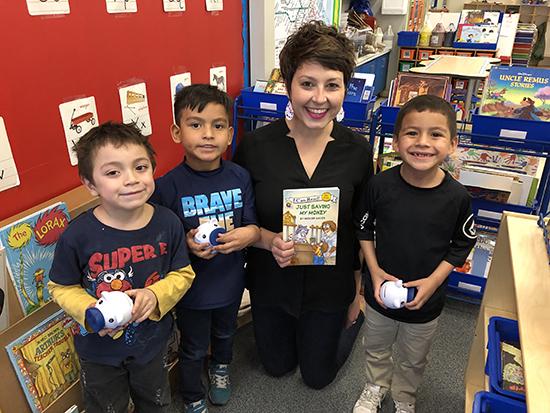 Teach Children to Save Session
We visit Kindergarten classrooms, giving students $1 in coins, a piggy bank and the knowledge they need to become life-long savers.
The finer points:
"Teach Children to Save" is a national initiative of the American Bankers Association. Cambridge Savings Bank participates by combining a group discussion about saving, mathematics and reading comprehension all in one lesson
Teaches Kindergarteners to compare values of coins on a colorful coin-chart and learn about each coin's presidential portrait
Participate in the free sessions held throughout April and early May for Kindergarten classes in the communities our bank serves
"Cambridge Savings Bank has come to the Daniel Butler School for the past five years. Their 'Teach the Children to Save' Program is absolutely phenomenal! They come and teach a very age-appropriate lesson that begins with a story about saving money and the follow-up questions make for very engaging conversation! The colorful hands-on coin chart where the children are able to match the coins and learn about the presidents on them, as well as their values is a great interactive piece. The children are always very excited as they place their dollars worth of coins into the piggy banks all of these things which Cambridge Savings Bank kindly provides to each student!" 
Audrey Ruddick, elementary school teacher at the Daniel Butler School in Belmont, MA. 
For session information:
Cambridge Savings does not actively or through the use of passive tracking mechanisms such as cookies collect any information such as names, addresses, telephone numbers or e-mail addresses from its visitors.

Cambridge Savings Bank's Privacy Policy strictly complies with the Children's Online Privacy Protection Act.