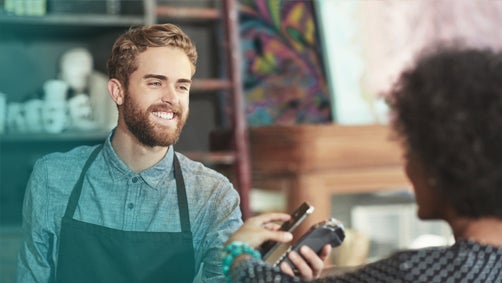 Use Samsung Pay at your favorite places. Whether you're at the local convenience store, the neighborhood florist, or your favorite boutique – you're good to go.
The finer points:
Transactions are authorized with your fingerprint or passcode, so you're in control of when each payment is made.
Each transaction uses a dynamic token instead of your card number, which means your transactions remain secure, and your information stays safe.
Your purchases remain yours alone; Samsung Pay doesn't share or store your personal information.
Set Up Samsung Pay
Add your debit and credit cards in a few simple steps.
Visit the Samsung Pay app on your Samsung device
Your device's camera will scan in your card information for you to confirm
Once your card information has been accepted, please call the number on the screen to activate your card for Samsung Pay
Make Purchases
Swipe up. Secure. Hover. Pay.
Swipe up from the bottom of your screen to launch the app
Secure your transaction with fingerprint authentication
Hover your device close to the card reader, about ½ inch over where you'd usually swipe or tap your card
A gentle vibration will let you know payment is being transmitted, and the card reader or cashier will confirm the payment is complete
Only compatible with select cards, carriers and Samsung devices; see the Samsung Pay Support page for compatibility information.
©2016 Samsung Electronics America, Inc. Samsung, Samsung Pay, Samsung Galaxy, Samsung Knox and Galaxy S (and other device names) are trademarks or registered trademarks of Samsung Electronics Co., Ltd. Use only in accordance with law. Other company and product names mentioned may be trademarks of their respective owners. Screen images are simulated; actual appearance may vary. Samsung Pay is available on select Samsung devices.